Comedy, Variety, Magic
Cooking with Igor
Vissertainments - Calgary, AB, Canada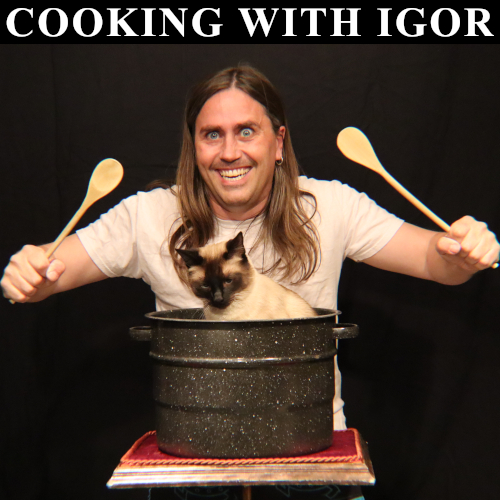 ☛ LOGIN or CREATE A NEW ACCOUNT BEFORE BOOKING YOUR TICKETS! ☚
General Audience
COOKING WITH IGOR
Ancient magics both naughty and nice.
Forbidden knowledge of season and spice.
Peer into madness with pies and meat.
Wander too close and become the treat!
It's Igor, your lovable host.
To cook for you a delicate roast.
Sharing secrets from an ancient book.
"Cooking the Children", let's take a look.
Baking Matt Pies and delicious Stu's.
So many options for us to choose.
Bring the family, have a seat.
So many friends, for us to eat.
Seriously....bring the family. Meat's expensive these days.
Playwright: Chris Visser
Director: Chris Visser
Cast: Chris Visser
CONTENT ADVISORY
Cartoonish Violence, Audience Participation, Solo Performance
VIDEO TRAILER
---
DATES AND TIMES
Sat Aug 5 @ 3:45 pm
Sun Aug 6 @ 7:45 pm
Mon Aug 7 @ 1:45 pm PAY WHAT YOU WANT
Wed Aug 9 @ 5:45 pm PAY WHAT YOU WANT
Fri Aug 11 @ 7:45 pm
Sat Aug 12 @ 3:45 pm
All shows are considered relaxed performances with the occasional loud audio moment.
---