Comedy/Drama, Clown, Dance
Mail Ordered
Shanice Stanislaus - Singapore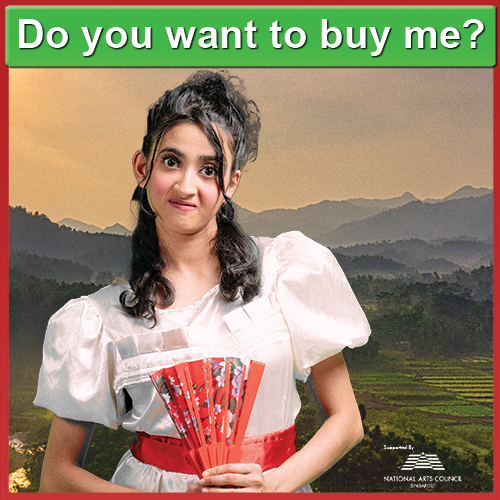 ☛ LOGIN or CREATE A NEW ACCOUNT BEFORE BOOKING YOUR TICKETS! ☚
General Audience (10+)
The "Pick of the Fringe" for the 2022 Vancouver Fringe Festival is coming to Calgary! Lila, a village girl arrives in Canada, looking for a husband who's just her type - any man who can buy her for $100,000.00.
Featuring a cast from Singapore and Calgary, this interactive comedy delivers hilarious Asian melodrama tropes and parody.
Join us for a show audiences have described as "Wildly Funny" and "Delightfully Interactive" as Lila showcases her impressive dance moves, charming giraffe jokes and extreme domestic skills.
Who knows... you might even leave with your very own Mail Ordered bride!
Director:
Aaron Coates (Canada)
Cast:
Shanice Stanislaus (Singapore)
Dennis Sofian (Singapore)
Andrea Greening (Canada)
Nathan Crockett (Canada)
Stage Manager:
Caaryn Sadoway (Canada)
Music Director:
Eugene Yip (Singapore)
Sound Designer:
Yen Yu Ting (Singapore)
Producers:
Michele Lim (Singapore)
Ng Yuan Jie (Singapore)
Movement Consultant:
Antonio Vargas
CONTENT ADVISORY
Challenging content - the sale of women, Audience Participation
VIDEO TRAILER
---
DATES AND TIMES
Fri Aug 4 @ 5:45 pm
Sun Aug 6 @ 1:45 pm
Mon Aug 7 @ 7:45 pm
Tues Aug 8 @ 5:45 pm PAY WHAT YOU WANT
Thurs Aug 10 @ 5:45 pm PAY WHAT YOU WANT
Sat Aug 12 @ 7:45 pm
---